You know the regular way to assign a project to an action in the Inbox: click on the Project field, or hit the tab key until you get there. Then start typing, and a menu will suggest matches. Or click the down-pointing arrow to get the full menu, then choose one of the projects in the menu.
But what if you just want to use drag and drop instead? That is, what if you want to drag an action onto a project? You can! There are two ways, even.
The Easy Way
You can tell OmniFocus to show the Inbox while in the Projects tab. Open Preferences, then click the Organization toolbar item.
Find "In the Projects perspective:" near the bottom, and check the box next to "Show Inbox." It should look like this:

Close the Preferences window. Back in the main window, click the Projects tab. Note how Inbox appears at the top of the list. Select it to see your Inbox.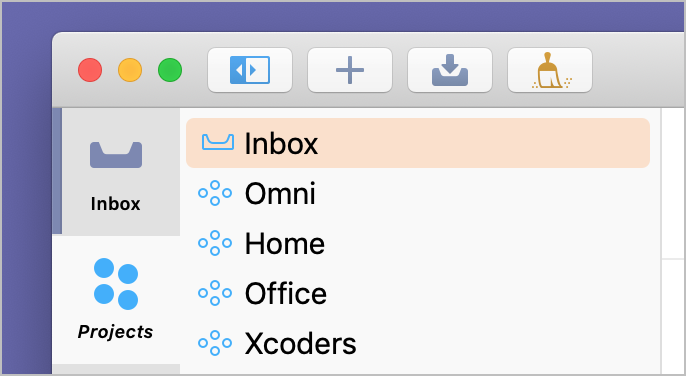 Now you can drag items in Inbox to any of your projects!
The Other Easy Way
Click on the main Inbox tab.
Select a row in the Inbox — the action you want to file. Start dragging.
Drag it over the Projects tab in the leftmost part of the window. After a short delay, the Projects tab will appear. (It's kind of like spring-loaded folders in the Mac Finder.)
Continue dragging — drag the action over one of the projects listed in the sidebar, and then drop. That action will now be part of that project.
To get back to the Inbox after this, just hit cmd-1 (or the keystroke you've assigned to the Inbox). Or just click the Inbox tab.